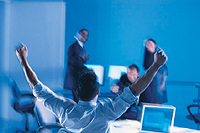 Innovation is essential to business survival. Every organisation has to be unique at something, at least for a little while, to stay ahead of the game. Therefore we have created an innovative approach to help our clients innovate.
Using leading edge techniques drawn from psychology, we offer a unique package, which includes:
Creating a culture which is conducive to innovation
Identifying those individuals who have the greatest talent for creative thinking and for harnessing innovation.
Using leading edge techniques to enable people to achieve their innovation potential.